System requirements: OS X 10.9 – 10.12, 64 bit CPU (click here to find out if your CPU is supported).
Bundle: Profex-BGMN-Bundle-3.11.1.dmg.zip (35 MB)
The bundle contains Profex 3.11.1, BGMN 4.2.22, a set of instrument configuration files, and some crystal structure files. BGMN and related files are bundled with kind permission of the BGMN development team. For source code and further information, please visit http://www.bgmn.de.
Support for OS X 10.6.8-10.8
Bundles for OS X 10.6.8, 64 bit CPU are available upon request. For quick access download the previous "oldmac" version at the bottom of this page.
Installation
Extract the ZIP archive to your local hard disk and mount the extracted disk image.
Copy the content to your hard disk, e.g. to Applications: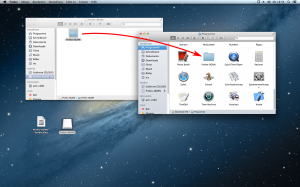 Open the folder Profex-BGMN and run "profex":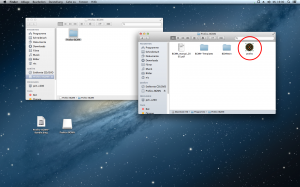 Optionally: If the folders of the disk image (Profex, BGMNwin, Devices, Structures) are not copied to the same location, run Profex, open Edit -> Preferences… -> BGMN -> Configuration and set the executable files and structure / device databases to the right location. When upgrading from a previous version, the previous configuration will be maintained.
Other Files
Device and structure templates: BGMN-Templates-unix.tar.gz (0.5 MB)
Known Issues
Previous Release
Bundle: Profex-BGMN-Bundle-3.10.2.dmg.zip (35 MB)
Bundle: Profex-BGMN-Bundle-3.10.2-oldmac.dmg.zip (37 MB)